 BACKGROUND IMAGE: iSTOCK/GETTY IMAGES
IBM roadmap of cloud, AI-enabled IT drives Think conference
Editor's note
JPMorgan Chase feeds 24/7 IT monitoring data into a mainframe equipped with machine learning and data analytics to glean insights that improve app performance. HCL Technologies relies on DevOps and cutting-edge development and testing to collaborate effectively and maintain software quality. American Airlines refactored applications and provisioned Kubernetes clusters in production on platform as a service.
These enterprises, presenting at IBM Think in Las Vegas, March 19 to 22, are investing in IT automation, cloud computing and other technologies because the ROI is visible. But it isn't as simple as diving 100% into public cloud or scripting every step that admins take. IT organizations ready to modernize and improve operations should study the IBM roadmap for these trends to make informed strategy and tooling decisions that have the best payoff.
1

Intelligent automation is a no-brainer

IT automation in and of itself can only improve speed, but with data analysis layered on top of automation, IT organizations can train systems to behave and react in certain ways. The data is there, but it isn't always easy to use.
2

The many ways to approach cloud computing

Containerization and cloud computing enable scalable, portable applications and challenge IT operations organizations to apply consistent policies, ensure security and manage resources effectively.

Download this free guide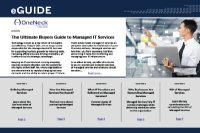 Download Now: Managed IT Services Buyer's Guide
In this 20-page e-book, you'll get your hands on an in-depth overview of managed IT services, and 8 key considerations to help shape your organization's purchasing decisions.
3

When does DevOps become doable?

DevOps is supposed to make digital business better -- not necessarily easier. IT organizations face a mounting pile of DevOps tools, as well as communication sticking points and an information overload in the continuous improvement of continuous integration, delivery and deployment.
4

Watch and learn: The security approach aided by AI

IT organizations can track every move made by their users on applications, both internally and by external customers. All that data feeds smarter cybersecurity systems, which interpret threats and flag suspicious user activity.