Is Kubernetes free as an open source software?
Kubernetes is available open source, but also from IT vendors. As a complex container orchestration tool, Kubernetes brings many benefits to IT shops managing containers at scale. Which version will pay off for enterprise adopters?
The question of cost often crops up around open source software -- especially when that software has been widely...
Continue Reading This Article
Enjoy this article as well as all of our content, including E-Guides, news, tips and more.
adopted and integrated into other products.
Kubernetes is an open source container orchestration and management tool managed by the vendor-neutral Cloud Native Computing Foundation. While tools such as Docker actually build and drive containers, tools like Kubernetes automate the deployment, scaling and management thereof.
So, is Kubernetes free?
Yes, but also no.
Pure open source Kubernetes is free and can be downloaded from its repository on GitHub. Administrators must build and deploy the Kubernetes release to a local system or cluster or to a system or cluster in a public cloud, such as AWS, Google Cloud Platform (GCP) or Microsoft Azure.
While the pure Kubernetes distribution is free to download, there are always costs involved with open source software. Without professional support, Kubernetes adopters need to pay in-house staff for help or contract someone knowledgeable. The Kubernetes admin needs a detailed working knowledge of Kubernetes software build creation and deployment within a Linux environment.
In effect, users need to know what they're getting into before they adopt open source software in the enterprise.
When isn't Kubernetes free?
Kubernetes isn't just a do-it-yourself proposition and can be obtained from numerous other sources that aren't necessarily free. In most cases, Kubernetes is integrated into hosted cloud services because containers are well-suited to application deployments in the cloud.
For example, Kubernetes is integrated into Red Hat OpenShift, a container application platform built with default registry, networking and other setup options, along with automation and a service catalog to take away some of the complexity of container operations. The dedicated version, which provides a high availability version of OpenShift as a virtual private cloud, starts at $48,000 per year. Red Hat OpenShift Online supports up to 10 projects starting at $50 per month.
Paid Kubernetes options abound. VMware Pivotal Container Service supports Kubernetes alongside its other container provisioning and management features. Platform9 delivers Kubernetes as a service, supporting hybrid cloud across public clouds and local, on-premises server infrastructure. IBM Cloud Kubernetes Service brings cluster management, container security and isolation capabilities to container environments often deployed for other IBM services, such as Watson, IoT and big data projects. The exact pricing for these services requires a detailed quote directly from the specific vendor.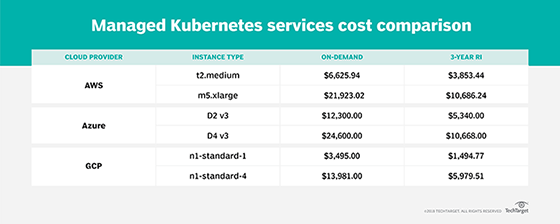 While it is possible to deploy Kubernetes in a public cloud instance without vendor support, many public cloud providers have done this for users by providing Kubernetes as a public cloud service. For example, Azure Kubernetes Service (AKS), Google Kubernetes Engine (GKE) and Amazon Elastic Container Service for Kubernetes (EKS) all provide a fully managed Kubernetes container orchestration. AKS and GKE are free. Azure and Google users pay only for the costs of compute, storage, monitoring and other services used to architect the cloud application deployment. Amazon EKS currently charges $0.20 per hour for each cluster, in addition to the cost of compute, storage, monitoring and other services used in the AWS cloud.