Fotolia
Manage
Learn to apply best practices and optimize your operations.
Institute Embotics vCommander for IT orchestration
IT orchestration systems have a plethora of benefits for an organization, and there are a wealth of options. Follow this tutorial to set up a platform that works with cloud and on-premises hosts.
This Article Covers
RELATED TOPICS
Looking for something else?
IT orchestration saves money and time and improves how business groups interact with back-end IT. Once you decide on an IT orchestration system, it's time to set it up.

Download this free guide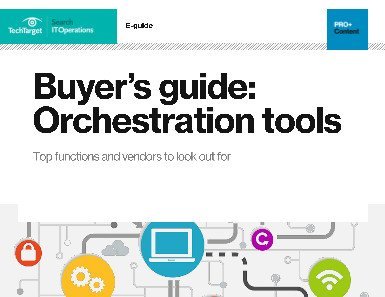 Orchestration tools: Our experts' vendor-neutral analysis
Orchestration tools are becoming increasingly popular as part of the DevOps process as they allow admins to focus on more critical tasks, rather than the routine steps it takes to move a workflow along. Our experts analyze the top solutions in the market, namely: Automic, Ayehu, BMC Control-M, CA, Cisco, IBM, Micro Focus, Microsoft, ServiceNow, and VMware.
By submitting your personal information, you agree that TechTarget and its partners may contact you regarding relevant content, products and special offers.
You also agree that your personal information may be transferred and processed in the United States, and that you have read and agree to the Terms of Use and the Privacy Policy.
Editor's note: If you aren't sold on the benefits of orchestration or can't decide if automation or orchestration is the right path, read about orchestration system basics here before diving into the tutorial.

This tutorial uses the Embotics vCommander IT orchestration platform, because the admin can build the entire installation on one Microsoft Windows-based server.
Initial vCommander setup
To start with Embotics vCommander, configure a Windows Server 2016 machine with 8 GB RAM and two CPUs. While vCommander requires a minimum of 4 GB RAM, more is better. Download the vCommander application, and step through the installation wizard. Select the built-in Microsoft SQL Server option.
Once the Embotics server is configured, log in to it via the web interface, which is the fully qualified domain name (FQDN). Embotics provides a list of steps and requirements to enable it. Use the superuser account for these steps.
Add a VMware cluster to give the vCommander orchestration system a compute resource.
Click Add Managed System in the vCommander interface, and fill in the details required for the system to connect and manage the vCenter-based infrastructure. This may take several minutes to complete. VCommander managed system options include VMware vCenter, Microsoft System Center Virtual Machine Manager and public cloud systems Amazon Web Services and Microsoft Azure.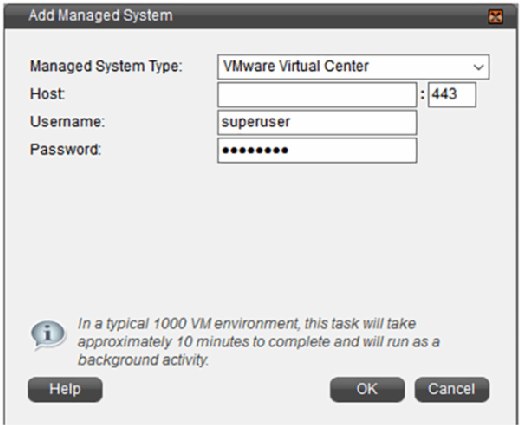 Continue with the vCommander steps, configuring Active Directory (AD). Verify that the email notification system is working as intended. This is how requests that require approval will be routed to the appropriate staff members.
Get organized
Orchestration options get interesting as you move into organizations and quotas. Click Get Started with Cloud Automation to enter this area.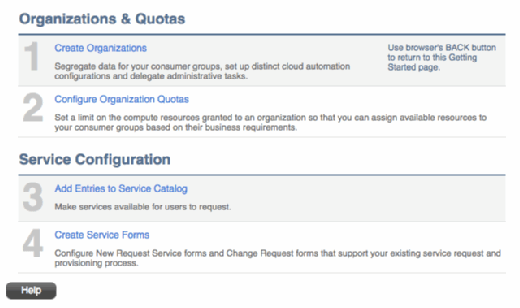 This tutorial enacts the default organization, for demonstration purposes. Click Create Organizations, then navigate to the Users tab. Add in the AD administrators to the organization. Embotics doesn't allow navigation to select AD-enabled servers with vCommander, so the administrator must type in the full name. For example, the administrator account here is administrator@itburns.local.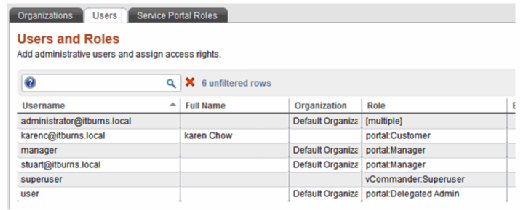 Create a few users, and assign them the customer role (see Karen Chow in Figure 3 as an example) in the Service Portal Roles tab. Assign the manager role to another user. This step enables you to test out vCommander before deploying it for real users. Skip the resource management for now.
Create a service catalog
The next step is to create a basic service offering, also called a catalog. Navigate back to the Getting Started with Cloud Automation main page, and select Add Entries to Service Catalog.

This tutorial uses a VMware template to serve up newly created machines. Create a Windows 2016 VM, and install VMware Tools. Ensure that the server is set to use Dynamic Host Configuration Protocol (DHCP). It will pick up an IP address from the pool that you create. Now, convert the VM into a template; it is an option from vCenter available when you right-click on the VM.
Create a DHCP scope using the topmost toolbar for configuration of IP pools and networking. Click Add at the bottom of that window group, and follow through the options as needed.
Back in the main vCommander service configuration window, click Add Entries to Service Catalog (Figure 4). Click Add Service in the bottom right of that pane. This tutorial covers a basic Windows Server 2016 server with a dynamically allocated IP address offering.
In the Embotics platform, go to the service catalog, and select Create. Name the service catalog, and give it a description and icon. Select all the appropriate categories for this catalog -- this step affects what services become available later on.
Click Next, and the screen will invite the administrator to select an appropriate template. Click the Add button to see options. Choose Template, Image or AMI. Use the template you created earlier in the orchestrator tutorial, and add it to the service on the next page. Click Finish.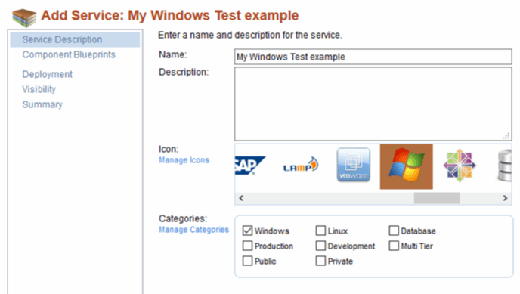 A service is now available in the service catalog. VCommander will display prompts to add the Windows VM template (see Figure 5). There are several additional items that can be configured. For the purposes of this tutorial, bypass these options, and click Finish.
Enable end-user self-service
At this point, the end user should be able to log in to the vCommander portal and request a VM. The portal URL is the FQDN for the Embotics server with /portal appended to the end.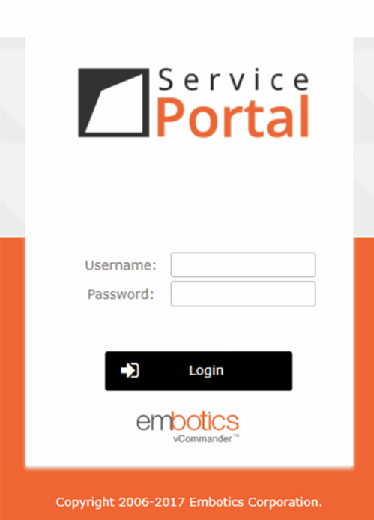 To try out the orchestration system, navigate to the service catalog, and log in as the first test user you created. If all went according to plan, the catalog item created during setup will be available to this user. Click the + within the catalog item, and it will pop out a form to fill out (see Figure 7).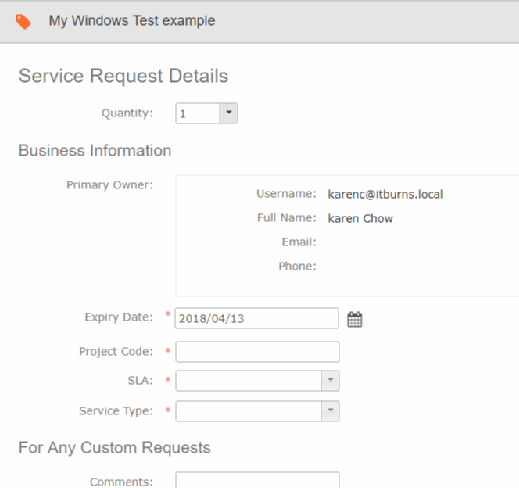 Below all the basic information, there are additional fields, including server expiry date. All servers have an expiry date, but it isn't set in stone. The user has the opportunity to renew the server before it expires. The project code is customizable. In a real business scenario, project codes designate cost centers or other organizational information. Select any service-level agreement (they are all the same in this example) and a service type. Now, you can review and submit the request form. Users can add multiple catalog items to one request.
By default, requests must be approved by a manager. Go to the test manager's account, and verify that the account received a hyperlink for approval.
Once it gets permission, vCommander will clone the server from the template and give it a DHCP address. After a short while, the new VM will appear in vCenter.
There are sundry other options that could be implemented on top of the Embotics vCommander platform to provide additional functionality and services. This tutorial covered the absolute basics of setting up the orchestration platform and testing a basic configuration.
Dig Deeper on Scripting, Scheduling and IT Orchestration
PRO+
Content
Find more PRO+ content and other member only offers, here.