Manage
Learn to apply best practices and optimize your operations.
Can Microsoft take over the systems management market?
Microsoft flagship products, such as Windows and Office, emphasize users' creativity rather than working to improve system stability, resilience and automation required by strong systems management tools.
This Article Covers
RELATED TOPICS
Looking for something else?
For as long as I've being watching the systems management market, Microsoft has been waiting in the wings almost ready to take advantage of its server OS dominance in mid-sized enterprises. So why hasn't this happened? What makes its latest push any different?

Download this free guide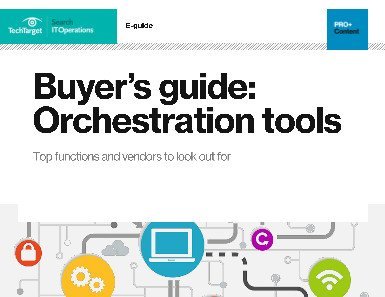 Orchestration tools: Our experts' vendor-neutral analysis
Orchestration tools are becoming increasingly popular as part of the DevOps process as they allow admins to focus on more critical tasks, rather than the routine steps it takes to move a workflow along. Our experts analyze the top solutions in the market, namely: Automic, Ayehu, BMC Control-M, CA, Cisco, IBM, Micro Focus, Microsoft, ServiceNow, and VMware.

By submitting your personal information, you agree that TechTarget and its partners may contact you regarding relevant content, products and special offers.

You also agree that your personal information may be transferred and processed in the United States, and that you have read and agree to the Terms of Use and the Privacy Policy.

For too long, Microsoft has considered systems

management a product rather than a set of processes that are automated and augmented with software. Microsoft, like many other vendors, has positioned systems management as a collection of features and eschewed processes for brainless automatons. Additionally, systems management is completely unlike Microsoft's other, more successful products in a fundamental way: It is not a creative platform.

Windows and Office are tools people use to create something – an application, a spreadsheet, a webpage. Microsoft's marketing understood in its DNA that the selling point was unleashing the user's ability to create new things.

Systems management channels creativity differently
Systems management is the complete opposite. The goal is a stable, resilient, high performance computing environment that is unobtrusive to user experience – a good day is one with no complaints. Administrators use their creativity to resolve problems, to get more performance out of existing resources, to maximize capacity utilization and to improve cost effectiveness. These activities don't typically elicit a "that is so cool!" reaction in users. In a nutshell, Microsoft hasn't understood systems management customers.

So, what is different this time around? First, Microsoft is beginning to learn that processes are not the enemy. With the right hooks and tweaks, its platforms actually can make business processes easier, automated and more realistic (with the 'small' side benefit of strengthening Microsoft's lock on office productivity tools).

The evidence is in recent Office integration with SAP and EMC content management. This new understanding of processes is permeating the systems management product planning. When Microsoft talks about delivering a Service Desk, it is really talking about providing the means to facilitate and automate IT processes – not simply delivering a basic trouble-ticketing tool for the Windows admin masses.

Secondly, the processes Microsoft is focusing on are gathered from talking to users. There was a large push within Microsoft to understand customers and their needs – a necessary first step in successful solutions.

The third item is not a stated Microsoft strategy, but I believe it could be an important factor: Open source system monitoring tools. It has become easier to find robust data collection tools for a wide variety of operating systems and network devices. Thus Microsoft doesn't have to deliver monitoring agents for non-Microsoft technology – the open source community will.

Yet this is an advantage only if third-party integration is easier. If systems management data does become self-describing through the consistent use of XML and other standards, integration would actually be easier. I'm hopeful on this point, but I'm not holding my breath.

What is standing in the way of Microsoft's domination of the mid-size enterprise market (with the 'small' side benefit of strengthening Microsoft's OS lock)? Some of the usual suspects: Microsoft's ability to execute, price/usability of the solution, incumbent management players (BMC, CA, EMC, HP, IBM Tivoli, etc.). But new system management paradigms could also disrupt the applecart. Some examples are IT search instead of log-management (Splunk); predictive problem analysis in addition to traditional root-cause (Integrien); and what-if resolution analysis instead of "change the configuration and hope it works" (Symantec). Systems management may not be creative in the traditional sense, but it sure doesn't stand still.

ABOUT THE AUTHER: Jasmine Noel is Founder and Partner of Ptak, Noel & Associates. She has served as director of systems and applications management at Hurwitz Group and was a senior analyst at D.H. Brown Associates.

Dig Deeper on Scripting, Scheduling and IT Orchestration
PRO+
Content
Find more PRO+ content and other member only offers, here.