News
Stay informed about the latest enterprise technology news and product updates.
Virtualization brings automated server provisioning into reality
With virtualization, one firm now dynamically provisions servers in its virtual test lab. Next up is the 'holy grail': automated server provisioning in production environments.
This Article Covers
RELATED TOPICS
Looking for something else?
David Brattain has seen x86 server virtualization – straight-up, virtualization for server consolidation – and it doesn't impress him all that much.

Download this free guide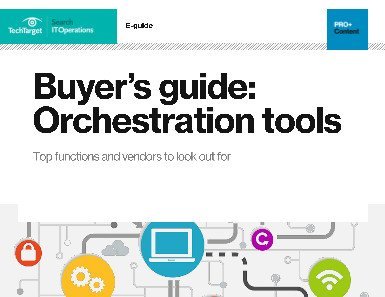 Orchestration tools: Our experts' vendor-neutral analysis
Orchestration tools are becoming increasingly popular as part of the DevOps process as they allow admins to focus on more critical tasks, rather than the routine steps it takes to move a workflow along. Our experts analyze the top solutions in the market, namely: Automic, Ayehu, BMC Control-M, CA, Cisco, IBM, Micro Focus, Microsoft, ServiceNow, and VMware.

By submitting your personal information, you agree that TechTarget and its partners may contact you regarding relevant content, products and special offers.

You also agree that your personal information may be transferred and processed in the United States, and that you have read and agree to the Terms of Use and the Privacy Policy.

"The whole idea of going from physical machines to virtual machines – anyone who grew up in the old mainframe has seen it all before," said Brattain, the senior vice president of systems and production support at Elavon Inc., a credit-card transaction processing company.

But once you add capabilities like automated server provisioning to server virtualization, it's a whole different story. The ability to build up virtual server environments, rearrange them at will, and break them down within minutes is an entirely new value proposition. And it's that kind of dynamic server provisioning -- even in live production environments – toward which Elavon has worked.

"It just so happened that we were in the middle of a virtualization project where we had virtualized about 80% of our server environment" using VMware and Solaris Containers, Brattain said. "We thought there was a real opportunity there to leverage virtualization and [automation] to provide a dynamic data center project."

The holy grail of virtualization
Specifically, Elavon uses CA Data Center Automation (DCA) Manager to perform on-the-fly server provisioning in test environments. With it, IT managers configure a pool of IT equipment – Web server applications, database servers, and various boot images – to be available as test assets. Once that is complete, quality assurance engineers can schedule an application test from the resource pool to be used for a given time. At the scheduled time, all the components that make up that application environment – for instance the database and Web services – become available for testing. Once the test has been completed, the assets return into the pool of available resources so they can be used for other tests.
This dynamic allocation and reallocation of resources based on peak performance requirements – that to me is the real holy grail of server virtualization.
David Brattain,
senior vice president of systems and production supportElavon Inc.
Previously, scheduling test resources had to be done manually, which required a lot of communication between groups to ensure that tests didn't overlap or strain the 2,000-square-foot data center's resources, and potentially lead to virtual sprawl.

But now Brattain can extend these capabilities beyond quality assurance testing. Ultimately, he wants the ability to set up production resource pools – groups of production servers that can perform different tasks at different times. That way, if a server normally assigned to batch processing is idle, its resources can be used for another production task.

Brattain envisions three scenarios where DCA could come into play in production. First, when the IT department receives a Simple Network Management Protocol alert indicating a hardware or operating system failure or when it detects a situation where predefined resource thresholds have been exceeded. Second, when a scheduled reallocation of resources has been triggered either through Elavon's batch workload manager (CA AutoSys) or DCA Manager. And finally, in the case of a manual reallocation of resources for system or application maintenance.

"This dynamic allocation and reallocation of resources based on peak performance requirements – that to me is the real holy grail of virtualization," Brattain said.

But this vision isn't yet a reality. Over the coming months, Elavon will continue testing DCA Manager in its test environment, and will possibly start exploring its use in production environments later next year.

Dynamic provisiong means knowing your data center
Using virtualization for dynamic server re-provisioning is fairly common. According to a recent TechTarget survey, 43% of respondents said that they use virtualization in this way. And industry leaders such as the federal Environmental Protection Agency (EPA) recommend it. But even the EPA realizes the drawback. Last year, in a report to Congress on data centers it noted that dynamic provisioning can "involve a change in the way that data centers are designed and operated, so their operators need to be able to objectively weigh the costs, risks, and benefits of these new technologies."

Because of these risks, Donna Scott, a research vice president and analyst at Gartner Inc., said that Elavon's plan to re-provision servers in production environments based on capacity and utilization is unusual.

"I have seen it," she said. "I just don't see a lot of it."

"It requires an organization to really know their applications and service levels," she continued.

Aside from knowing the servers you have, the utilization levels they run at and the service levels you need, Scott said it also requires virtual networking and storage capabilities so you can re-network those servers on the go. And that, she said, could require rewiring your entire data center.

When IT managers start demanding dynamic server reprovisioning, they will have plenty of software vendors other than CA to choose from, Scott said, including BMC Software Inc.'s BladeLogic, Hewlett-Packard Co.'s Opsware, Scalent, IBM's Tivoli, and Surgient Inc., among others.

But while some of these products -- Scalent, for example -- provide the tools to make the changes, it ultimately comes down to the user – and not an automated process – to decide when to pull the trigger. CA's DCA Manager, on the other hand, allows IT managers to set business rules and perform actions that align with them. In other words, with DCA Manager, Scott said you "close the loop between analytics and action."

Let us know what you think about the story; email Mark Fontecchio, News Writer.
Dig Deeper on Scripting, Scheduling and IT Orchestration
PRO+
Content
Find more PRO+ content and other member only offers, here.