News
Stay informed about the latest enterprise technology news and product updates.
CA tackles compliance, automation and security with new product launches
CA has rounded out its business service management portfolio with tools for software compliance, IT security compliance and IT process automation.
This Article Covers
RELATED TOPICS
This week, enterprise software company CA of Islandia, N.Y., introduced three new management tools to improve business service management efforts: CA Software Compliance Manager, CA IT Process Manager and CA Security Compliance Manager.

Download this free guide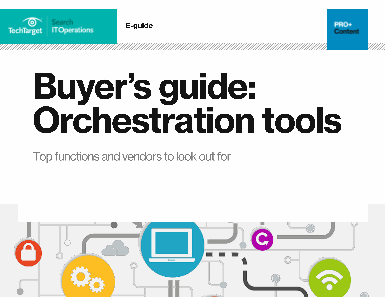 Orchestration tools: Our experts' vendor-neutral analysis
Orchestration tools are becoming increasingly popular as part of the DevOps process as they allow admins to focus on more critical tasks, rather than the routine steps it takes to move a workflow along. Our experts analyze the top solutions in the market, namely: Automic, Ayehu, BMC Control-M, CA, Cisco, IBM, Micro Focus, Microsoft, ServiceNow, and VMware.

By submitting your personal information, you agree that TechTarget and its partners may contact you regarding relevant content, products and special offers.

You also agree that your personal information may be transferred and processed in the United States, and that you have read and agree to the Terms of Use and the Privacy Policy.

CA Software Compliance Manager continually monitors software license compliance using a compliance engine that matches discovered instances of software licenses. The tool can also detect the number of unlicensed versions of software automatically and whether organizations pay for software that's not in use. "Most compliance processes are manual, triggered by a person or an event that may occur," said Al Nugent, CA's chief technology officer. "This software follows drift."

By offering a deeper view of idle software, CA Software Compliance Manager may also help companies save on licensing costs. "Many organizations have software that's dormant until they need to use it," Nugent said, and they pay for the privilege. A company, for example, may maintain images of a Web server farm; those images are turned on to alleviate capacity whenever there's a spike. By continually monitoring license compliance, CA Software Compliance Manager, said Nugent "provides a lot more granularity into software licenses." In addition, CA Software Compliance Manager enables IT to maintain and track software license information in a single system that is continuously updated.

Upping the ante in the IT process automation (ITPA) market
The CA IT Process Manager enables customers to build, orchestrate and manage automated workflows.

For example, CA IT Process Manager includes ITIL templates automating routine processes such as fault management, change management and maintenance procedures.

"This is part of the data center automation family of products that aim to drive costs down for overarching IT processes," Nugent said. CA IT Process Manager integrates with CA and third-party systems management tools, including those from rivals BMC Software Inc.,, Hewlett-Packard Co. and Microsoft.. CA IT Process Manager, for example, could coordinate an IT process as it moves from CA's Spectrum network fault management tool to BMC's Remedy help desk software to VMware Inc.'s VirtualCenter. "The tool can orchestrate processes across whatever platforms an IT shop has in place," Nugent added.

According to Andi Mann, the research director at Boulder, Colo.-based IT advisory firm Enterprise Management Associates, the product is an important addition to CA's data center automation lineup. "With this release -- which leverages CA's OEM relationship with leading ITPA provider, Opalis -- the company brings to market an ITPA solution with extensive out-of-the-box integration, great ease of use and long-term maturity," he said. Both BMC and HP offer ITPA products, Mann added, making this product introduction important for CA. For IT shops, the addition of ITPA has significant ROI. According to EMA, IT shops with ITPA save $500,000 just in labor costs.

CA's third product is the CA Security Compliance Manager, software that integrates with several other tools, including CA Identity Manager, CA GRC Manager and CA Service Desk. The software is designed to automatically enforce IT security controls by automating compliance processes. "If the software detects a violation in regard to legal or compliance policies, it can automatically initiate remediation procedures through a help desk," Nugent said.

In addition to these new products, CA also enhanced existing security, compliance and systems management products. The strategy behind all the activity is the pursuit of what CA calls enterprise IT management or EITM. "EITM is a vision we put in place around three years ago," Nugent said. "It's an integrated way for IT to govern, manage and secure technology assets and relating IT infrastructure to a business process and tie it back to a governance framework."

Let us know what you think about the story; email Megan Santosus, Features Writer. You can also check out our Server Specs blog.
Dig Deeper on Scripting, Scheduling and IT Orchestration
PRO+
Content
Find more PRO+ content and other member only offers, here.