News
Stay informed about the latest enterprise technology news and product updates.
Analysts give re-tooled CA another chance
CA had undergone tremendous changes. New, tough, focused executives are now in place, and the company now focuses on building products that support critical governance, management, and security processes. In addition, CA is rebuilding and retargeting its sales force.
This Article Covers
RELATED TOPICS
Looking for something else?
TECHNOLOGIES
I ceased tracking Computer Associates (CA) about seven years ago toward the end of Charles Wang's stewardship and during the rise and fall of Sanjay Kumar. These were the days of the "bad" CA - a company known for its hard sell tactics, business performance reporting "inaccuracies," and cocky, abrasive attitude. Life is short and I had no desire to waste my time covering a train-wreck.

Download this free guide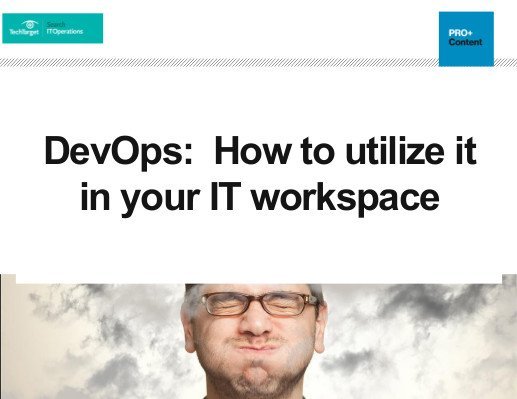 PDF: Are you migrating to DevOps?
As DevOps is slowly taking over the IT landscape, its vital that IT pros understand it before jumping right into the movement. In this complimentary guide, discover an expert breakdown of how DevOps impacts day-to-day operations management in modern IT environments.

By submitting your personal information, you agree that TechTarget and its partners may contact you regarding relevant content, products and special offers.

You also agree that your personal information may be transferred and processed in the United States, and that you have read and agree to the Terms of Use and the Privacy Policy.

However, in November, 2006, I came across a CA product that highly interested me: Advanced Systems Management, which can perform cross-platform management of virtualized clusters. I wrote a report on this product and reestablished contact with the company.

What I learned as I researched Advanced Systems Management was that CA had undergone tremendous changes. New, tough, focused executives are now in place, and the company now focuses on building products that support critical governance, management, and security processes. In addition, CA is rebuilding and retargeting its sales force.

To learn more about the goings-on at CA, I attended CA's recent industry analyst symposium in Rye, New York. The following are my meeting notes.

CA's Industry Analyst Symposium

First, since the entire meeting was conducted under a non-disclosure agreement I have to be careful of what I say. CA shared in-depth product plans and roadmaps and sensitive sales deployment data with the group of fifty or so visiting IT analysts. Several CA customers spoke off the record on what it was like dealing with the company during the bad old days and how their relationship with CA has lately changed.

The meeting opened with John Swainson, the company's CEO and president, who spoke first about how relieved and thrilled he was that the U.S. Justice Department had decided to drop fraud and obstruction of justice charges against CA. With that monkey off his back, Swainson intimated that now he could focus on the major task at hand: changing CA's direction, recovering customer good will, and running the company for long term stockholder value.

Swainson comes off like a no-nonsense, focused, highly informed chief executive officer. He's clearly hands-on and strongly committed to driving the company's strategy, changing the company's culture, recovering customer good will and running the company "properly."

The remainder of day one was spent with members of Swainson's executive and product teams reviewing the company's sales and financial strategies, its product plans, and viewing product demonstrations. I've separated the long and the short of what I learned into two broad categories: operations/strategy and technologies.

Operations and strategy:
CA is no longer just a management company – it's a maker of software products that help businesses define expectations and measure performance (governance); manage people, processes, and technologies (management); and secure entire IT environments (security);
CA continues to provide services and support for its products – but it does not conflict with its business partners by selling high-level business consulting services. This approach should increase CA's appeal to major professional services firms that all too often find themselves in direct competition with their systems partners;
CA is making a concerted effort to recover from the worst of its past sins: the alienation of customers. CA now wants to earn the right to become a trusted advisor.
A CA customer panel showed us that the company is actually recovering from sins of the past. Four customers expressed their pleasure in dealing with the new CA and all plan to buy more products, indicating that the company's new strategic focus is on the right track.
Technologies
CA continues to acquire companies that will help it drive its product and service strategies. Most notable has been the Clarity acquisition, which provided the means to tuck many CA products under the Clarity graphical user interface and dashboard. In essence, Clarity is an integration umbrella for launching integrated governance, management and security applications (the Clarity dashboard semi-demo was impressive);
CA is no longer the place that software goes to die (a view held by many about the previous company);
CA has now formed a unifying architecture (the Unified Service Model) which serves as a basis for integrating its own and third party products into a cohesive, unified environment.
Analysts cautiously optimistic
Part of the beauty of these symposiums is that analysts talk amongst themselves about what a vendor has said. We ask if what they're saying credible? Is it real? Can they really do what they say they're going to do? etc.
Most analysts found CA's product set to be both broad and deep. Some, however, expressed concerns about what the company is working on and what is really available today (so customers should request demos or do proof-of-concepts before buying).
That said, most analysts left the conference believing that CA is indeed a new company; that CA has an excellent product and sales strategy; and that CA had repaired some of the damage done to its installed base by previous administrations. Further, CA's executive team impressed every analyst that I talked with.
It had been a very long time since I had paid any attention to CA. But what I saw in terms of demos and what I learned directly from CA's executive management team has intrigued me. I plan to follow CA's sales, marketing, financial, and technological progress a lot more closely over the next few years.
Clabby Analytics specializes in teaching our readers how to build information systems that can ultimately support the transparent flow of business processes.
This article originally appeared in the Pund-IT Review under the title "Out with the 'Bad' CA, in with the 'Good'" and has been reprinted with permission from the author, Joe Clabby, President of Clabby Analytics.
Dig Deeper on Real-Time Performance Monitoring and Management
PRO+
Content
Find more PRO+ content and other member only offers, here.