News
Stay informed about the latest enterprise technology news and product updates.
Start data center documentation now, AFCOM speaker says
Data center documentation -- writing down step-by-step procedures for everything in your facility can help you run operations more efficiently with less downtime.
This Article Covers
RELATED TOPICS
Looking for something else?
LAS VEGAS -- It's 3 a.m., you're fast asleep, and the generator in your 24/7 data center hits the skids. Do onsite employees know what to do without you holding their hands? If you have solid data center documentation, they do.

Download this free guide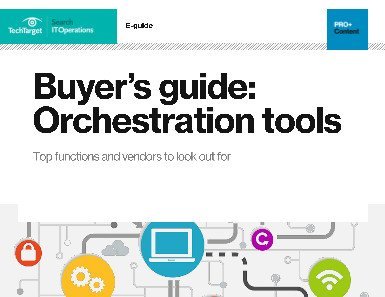 Orchestration tools: Our experts' vendor-neutral analysis
Orchestration tools are becoming increasingly popular as part of the DevOps process as they allow admins to focus on more critical tasks, rather than the routine steps it takes to move a workflow along. Our experts analyze the top solutions in the market, namely: Automic, Ayehu, BMC Control-M, CA, Cisco, IBM, Micro Focus, Microsoft, ServiceNow, and VMware.

By submitting your personal information, you agree that TechTarget and its partners may contact you regarding relevant content, products and special offers.

You also agree that your personal information may be transferred and processed in the United States, and that you have read and agree to the Terms of Use and the Privacy Policy.

As data centers continue to grow in importance within an organization, writing down the data center operating procedures becomes crucial. Having detailed, step-by-step plans for dealing with everyday and rare occurrences can make your facility run more efficiently, reduce downtime and help grant some peace of mind.

"Things do fail, and they don't always fail the way we expect them to," said Bob Woolley, director for technical quality management at Lee Technologies, at the AFCOM Data Center World conference in Las Vegas this week. "Often there is some installation or design error so things definitely can and will go wrong. We really need to plan for that."

Richard Sklar understands that. The data facilities supervisor for Bright House Networks, the Orlando, Fla., cable company, was brought in about a month ago to create procedures and provide training for a new 10,000-square-foot facility in Tampa, Fla. The procedures could include the power requirements for deploying a server, positioning rack servers and setting the temperature range for a data center room.

"One procedure would be around the installation of new equipment or relocation of old equipment," he said. "The IT guys may or may not be already aware of these things."

Three basic data center procedures

Woolley spelled out the three basic kinds of procedures that need documentation and training.
Standard operating procedures: These include how to fill out a log or rotate an air handler and typically don't require approval before starting.
Method of procedures: These are more detailed maintenance procedures, such as how to service an uninterruptible power supply (UPS) or fix a gasket on the generator, and require some approval before starting.
Emergency operating procedures: Examples of a data center emergency include losing utility power, a chiller shutting down or a generator that won't start up. Not only is it key to have a procedure for how to deal with these problems, but employees should run through drills before the real-life situation arises.
Then come the details. What should be in the procedure? Woolley said it should include information about a maintenance schedule (if there is one), site and contact information, an overview of the procedure, how it could affect the facility, any documentation that relates to it, safety requirements, possible risks, step-by-step details of the work to be done, a way to back out of it if necessary, required approvals, how to sign off that the work is completed and feedback.
As an example, line items in an operating and maintenance manual on a UPS could range from dictating that only certified technicians could perform the work and that failure of critical equipment during the work would force an immediate end to the procedure, to the nitty-gritty details of how to redirect air-conditioners to account for a UPS that's down for maintenance and ensuring that the backup generator has plenty of fuel.
Documenting data center processes requires training
Data center documentation can lead to the recording of many procedures, if done correctly. In the case of a generator, it could include having manuals on starting it up, shutting it down, what to do if the engine fails or it loses coolant, when and how regular maintenance occurs, and how a radiator hose gets replaced.
Though documenting a procedure step by step can be tedious, Woolley said there is a bright side -- just having to write a procedure can improve it.
"If I task someone with sitting down with a written procedure, if they take time with it, they're going to come up with some nuances," he said. "The whole process of writing something down can give you the luxury of thinking about it in a whole new way."
Even then the work isn't done. Data center procedures can turn into ancient texts if they're not used and the company isn't training new and existing hires. A company can spend 18 months on training a new hire to go from basic lessons on security policies to learning and practicing infrequent maintenance procedures.
None of it is cheap, but Woolley said you pay for what you get. Companies like Bright House seem to agree.
"Everything worth doing is going to cost something," Woolley said.
Let us know what you think about the story; e-mail: Mark Fontecchio, News Writer.
Dig Deeper on Configuration Management and DevOps
PRO+
Content
Find more PRO+ content and other member only offers, here.