News
Stay informed about the latest enterprise technology news and product updates.
Data center vendor trends from Gartner's Data Center Conference
Looking for a round-up of the latest data center product trends? Here is a list of the top technologies announced at Gartner's recent year-end data center conference.
This Article Covers
RELATED TOPICS
Looking for something else?
After recently attending the Gartner Data Center conference, I've put together some short notes on the vendors' wares on display.
What is CMDB and why should we care?
That's the question attendees were asking at the recent Gartner Data Center conference in Las Vegas. Both large and small vendors were lined up to tout their version of an answer.

Download this free guide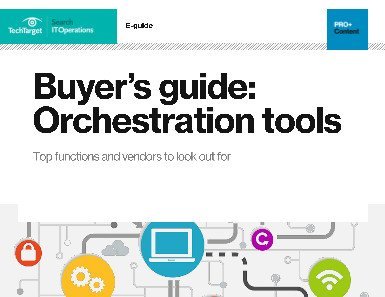 Orchestration tools: Our experts' vendor-neutral analysis
Orchestration tools are becoming increasingly popular as part of the DevOps process as they allow admins to focus on more critical tasks, rather than the routine steps it takes to move a workflow along. Our experts analyze the top solutions in the market, namely: Automic, Ayehu, BMC Control-M, CA, Cisco, IBM, Micro Focus, Microsoft, ServiceNow, and VMware.
By submitting your personal information, you agree that TechTarget and its partners may contact you regarding relevant content, products and special offers.
You also agree that your personal information may be transferred and processed in the United States, and that you have read and agree to the Terms of Use and the Privacy Policy.
A configuration management database (CMDB) is a database that contains all relevant information about data center components. It records changes to any item or a change in the relationship between items.
The process of configuration management -- specifying, controlling, and tracking changes made to a data center environment -- has been around forever. But the amount of change has exploded, so IT pros are turning to automated software to centralize the information.
Gartner analysts asked attendees which vendor they believed can deliver the most complete tool capability to address change configuration or release management; and attendees ranked Hewlett-Packard/Mercury 24%, BMC 21%, IBM Tivoli 5%, CA 4%.
While the big boys are leading the pack, there are a number of CMDB tools vendors filling the gaps. I met Balu Rajagopal, vice president of marketing for Alpharetta, Georgia-based RTO Software. RTO is a startup that came to the CMDB market late, but is looking to break in as a "starter-CMDB" for companies that aren't ready to invest in a quarter million dollar suite. RTO Pinpoint will sell at under $100 per server end point.
More vendors were there to tout how well they play with others. Burlington, Mass-based mValent was there to show off ties to Mercury's Universal CMDB -- recently purchased by Hewlett-Packard. mValent reps explained that the Mercury CMDB answers the question -- What do you have in your environment? The mValent component stores configuration details and change history, allowing you to see what changed, who changed it and why. And if you don't like the change, the mValent tool will allow you to roll back your configuration.
Data center automation making headlines, headway
IT process automation proved to be a big topic as vendors rolled out new software to help shoulder the burden of manual systems management tasks. Toronto, Ont.-based Opalis Software, Inc. was on hand with its latest automation tool, Opalis Integration Server 5.3. The new product includes:
ITIL-based, automated process templates; new integration packs, enabling the software to interact with other systems management tools, now including BMC Atrium, BMC Remedy, Microsoft SCOM, Microsoft Active Directory, and VMware VirtualCenter 2.
New dashboard views into metrics such as success/failure status, duration, load distribution, and ROI on automated IT tasks.

Todd DeLaughter, CEO and President of Opalis walked me through the ROI calculator. Basically, you determine the cost of an IT process, something that takes 20 minutes of a sys admin's time for example, and extrapolate against salary to get a cost for that process. Each time Opalis executes that process rather than having an admin do it manually, it tallies the savings in the ROI dashboard.

DeLaughter said customers are looking at automating tasks around ITIL processes, change management and the provisioning of virtual machines. But not everyone is ready to let the machine pull the trigger. DeLaughter said IT pros that aren't comfortable with policy-based, machine initiated event can automate to a step and manually make the action -- and at a later point remove that intervention.

Kris Hagerman, president of Symantec's data center division had a similar take. "Customers are ready to let automated software make suggestions that they approve or not," Hagerman said. "What they're not ready to do is push the button and assume the right things are going to happen."

Symantec was at the conference to roll out new automation tools: Veritas Application Director and Veritas Patch Manager. According to Hagerman, data center automation has traditionally focused on provisioning, tracking changes and doing patch management. But the new Symantec products are going to focus more on applications, specifically controlling when and where applications are running across a mixed server environment in order to best utilize CPU and memory resources.

In other automation news, Solidcore Systems, Inc. rolled out a new tool at the show. Solidcore S3 Control has a new feature that integrates with BMC's Remedy Change Management suite to automatically prevent or allow changes based on BMC's change management processes. The software automates the process of ensuring that all changes have been tested and have passed through the appropriate approval process within the BMC Remedy prior to deployment.

Power and cooling products

Steve Madara, vice president and general manager of environmental business at Liebert was on hand to talk about the Liebert XD series-- refrigerant-based cooling system designed for energy efficiency. According to Madara, the system reduces cooling's percentage of data center energy usage from 37% down to 26% by shrinking the need for fan horsepower and chiller capacity.

Madara said Liebert was working with utility companies right now to establish rebates for the equipment based on those savings. Vendors such as Sun Microsystems and SprayCool have recently worked out deals with utilities to provide discounts for energy efficient equipment.

What else is coming from Liebert in the future? Expect liquid cooling embedded at the rack level and a possible chip-level liquid cooling technology further down the road.

On the uninterruptible power supply (UPS) front, Raleigh, N.C.-based Eaton Corp. rolled out the Powerware BladeUPS.

Designed specifically for high density computing environments, the BladeUPS offers 12 kW of power in 6-U rack space -- significantly smaller than the current UPS offerings. Eaton says the system can save companies over $6,000 in utility bills in a year over current technologies, paying for itself over a five year period.

What's next from Eaton? Look for a new, low cost rack monitor appliance. The hardware/software combo boasts many features: temperature and humidity tracking, smoke detection, vibration, door sensors and water leak detection. It will be available near the end of 2006.

Let us know what you think about the story; e-mail: Matt Stansberry, Site Editor
Dig Deeper on Configuration Management and DevOps
PRO+
Content
Find more PRO+ content and other member only offers, here.