Evaluate
Weigh the pros and cons of technologies, products and projects you are considering.
Virtual container technology options for management, security
Virtual containers are all the rage, but do they live up to the hype? Find out the latest on container management tools and strategies for the best security.
Introduction
Containers are not just for development and testing. Companies such as Docker, Amazon, Google and Microsoft offer some compelling and full-featured virtual container products aimed specifically at enterprise IT production environments. But are these offerings a sign that containers are ready for enterprise deployments, or are businesses not ready to make the necessary changes to switch to containers?
Use this guide to learn about the current virtual container choices and technologies, proper tools for management, and the level of security achievable for different container options. Not sure what some of the lingo means? Head down to the glossary section to brush up on key container terms.
1

Container choices

-
Picking the right container
A number of companies provide container services: Amazon Web Services (AWS), Microsoft's Azure Container, Google Container Engine and Kubernetes, Docker -- the list goes on. The stories below will give you a better idea about the choice between bare metal and VMs for Docker deployment, migration technologies, a way to try out Linux containers and more.
2

Virtual container management

-
The latest on managing containers
Managing virtual containers requires automation and orchestration, especially as we look to make applications scalable. Google, Amazon and Docker offer tools and are tying management features together. Meanwhile, Microsoft shops are getting creative as they wait for Azure containers.

Download this free guide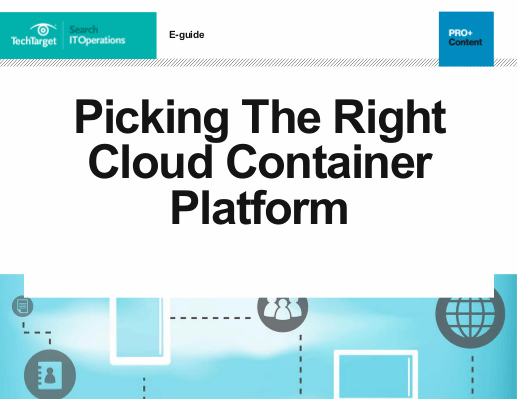 Download: Azure vs. Google vs. AWS container services
Access this expert breakdown of the top 3 players in the cloud container platforms market. While AWS, Google and Azure all abstract elements of Docker container management away from users to optimize application deployment and scalability, each offers unique features. Find out the benefits and drawbacks of all 3 services.
By submitting your personal information, you agree that TechTarget and its partners may contact you regarding relevant content, products and special offers.
You also agree that your personal information may be transferred and processed in the United States, and that you have read and agree to the Terms of Use and the Privacy Policy.
3

Glossary

-
Pertinent container terms
Choosing a virtual container option and management tools is great, but it's hard if you don't know the right terms.
4

Virtual container security

-
Are they or are they not secure?
Container security levels vary, depending on the type of virtual container and how the IT team implements containerization. Some experts say that Docker is less secure than CoreOS, while others tout its security options.