IT automation is the linking of disparate systems and software in such a way that they become self-acting or self-regulating.
An example of IT automation in practice might be as simple as the integration of a form into a PDF that is automatically routed to the correct recipients, or as complex as automated provisioning of an offsite backup.

Download this free guide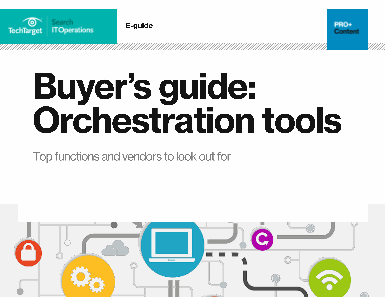 Orchestration tools: Our experts' vendor-neutral analysis
Orchestration tools are becoming increasingly popular as part of the DevOps process as they allow admins to focus on more critical tasks, rather than the routine steps it takes to move a workflow along. Our experts analyze the top solutions in the market, namely: Automic, Ayehu, BMC Control-M, CA, Cisco, IBM, Micro Focus, Microsoft, ServiceNow, and VMware.
By submitting your personal information, you agree that TechTarget and its partners may contact you regarding relevant content, products and special offers.
You also agree that your personal information may be transferred and processed in the United States, and that you have read and agree to the Terms of Use and the Privacy Policy.
IT automation has some limitations. In the security and risk management arena, automated systems can make errors, stemming from a weakness in human-level pattern recognition and language comprehension. An automated system is not the same thing as an intelligent system; it does not learn from past experiences. For instance, an email spam filter is an example of an automated IT process. Occasionally, valid emails end up in the spam folder and unwanted spam email gets past the filter and into a user's inbox.
While the goal of IT automation is to eventually demonstrate a strong ROI, there can be a fairly substantial investment on the front when deploying IT automation software, systems or infrastructure.
See also: business process automation.
Next Steps
By taking a declarative approach to automation, IT teams can define the desired state of their machines and determine how they will be configured.
Create, manage and deploy application stacks, bare metal servers, and VMs with Chef.
AWS OpsWorks: Should you buy it today?
Continue Reading About IT automation
PRO+
Content
Find more PRO+ content and other member only offers, here.