News
Stay informed about the latest enterprise technology news and product updates.
Read the fine print with Kubernetes 1.5 Windows support
Enterprises will get their first look at Windows container and programming-language support with Kubernetes 1.5 this week, but it isn't ready for production quite yet.

Download this free guide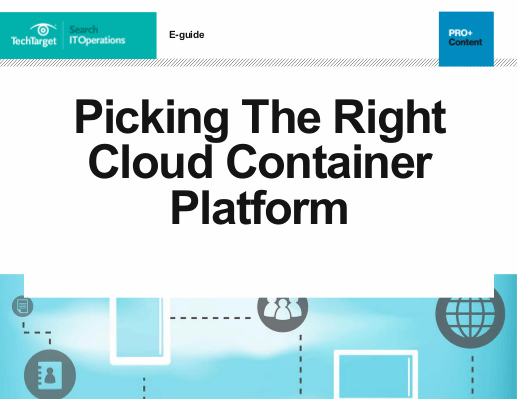 Download: Azure vs. Google vs. AWS container services
Access this expert breakdown of the top 3 players in the cloud container platforms market. While AWS, Google and Azure all abstract elements of Docker container management away from users to optimize application deployment and scalability, each offers unique features. Find out the benefits and drawbacks of all 3 services.
By submitting your personal information, you agree that TechTarget and its partners may contact you regarding relevant content, products and special offers.
You also agree that your personal information may be transferred and processed in the United States, and that you have read and agree to the Terms of Use and the Privacy Policy.
Windows support in this release of Kubernetes is in alpha, and contributors are still working on a few things for the beta that they'd originally hoped would be in the first release, according to Rakesh Malhotra, SVP of products and engineering with Apprenda, which led the Windows integration effort.
Certain constructs in Linux don't translate easily to Windows, such as IP tables. Kubernetes relies on IP tables to allow several containers to share a networking stack, so in the alpha release, Windows-based Kubernetes pods are limited to a single container.
"The networking stacks in Windows and Linux are significantly different," Malhotra said. "That's one of the challenges we hit."
Microsoft engineers have collaborated on brushing this up for the alpha release, so that setup is not "a configuration nightmare for clients," he said.
While Apprenda has a number of customers looking to deploy containers, the lack of a "first class experience" for Windows in Kubernetes has held some of them back.
"Kubernetes is kind of foreign to the Windows community — Windows developers live in a different ecosystem of trade shows, communities and tools," Malhotra said.
Also, users are encouraged to use Kubernetes 1.5.1 — out today — which has some additional important security patches.
Beth Pariseau is senior news writer for TechTarget's Data Center and Virtualization Media Group. Write to her at bpariseau@techtarget.com or follow @PariseauTT on Twitter.